Thanks for your interest in HELDERBERG HUSKIES. Allow us first to introduce ourselves. We are Jim and Marilyn Butler and our HELDERBERG HUSKY KENNEL, so named because of it's original location in the Helderberg Mountains of New York State (just SW of Albany), came into existence in 1977 with the purchase of our first Siberians (Kishka and Kinika).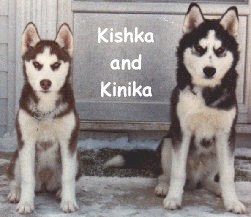 We enjoyed our pets for a number of years and sought-out other Siberian owners and were introduced to the world of show dogs in 1981.
We soon learned that we were the proud owners of "pet quality" dogs and that we could not compete in the show ring with our pets. It became necessary to purchase new and better bloodlines for our Kennel. After several purchases, we finally succeeded in purchasing a Siberian husky that we were able to finish to her AKC Championship. . .and she completed her AKC Championship (owner handled) at the huge, historical AKC CENTENNIAL SHOW in Philadelphia in 1984. She was known as CH. Innisfree's Sing'n A New Key.
We then finished her two daughters to their AKC Championships CH. Helderberg's Limited Edition (1989) and CH. Helderberg's Sing'n The Blues (1990). And in 1991 we finished our first male champion who was named CH. Helderberg's Starlyte Shadow !
In 1992 we finished Shadow's daughter CH. Helderberg's Shanni ! And Shanni has three finished champion daughters to her credit here in the USA ('94 '95 '96) BISS CH. Jax Helderberg Black Beary, CH. Jax Helderberg Monica Seles, and CH. Helderberg Sophisticated Lady. A fourth Shanni daughter, KUSA CH. Helderberg's Shanya Of Inivanda, earned her South African Championship and became the top winning female Siberian Husky in South Africa, earning the pretigious honor of Supreme Bitch during '94. '95 and '96. A fifth Shanni daughter, AKC CH. Helderberg's Mountain. Holly, living in Chile, took three back-to-back BEST IN SHOW wins her first weekend of South American shows in June '97 and subsequently has earned several South American Championship titles. Shanni has several other pointed offspring here in the states and has several finished AKC Champion grandchildren to her credit. We at Helderberg are justly proud of our daughter !
We are a "family oriented kennel" with Mom (having that certain in-born second nature in reacting with dogs) being Chief Handler. She has played the major role in the successes of Helderberg Husky Kennel in the show ring. Dad is our record keeper, secretary and bookkeeper, chauffeur, ring-side photographer and chief critic who is always there with a helping hand and suggestions for improvement in handling the dogs. Our youngest adopted daughter, Kimi, took naturally to the show ring and as a teenager became very adept at handling our own dogs as well as being asked on numerous occasions by other show dog owners to handle for them when their professional handlers were unavailable ! Now in her late twenties she is unable to assist in handling our dogs as she has started her own successful petsitting business and weekends are her most busy time ! But she and her adopted brother and sister occasionally help "kennel-sit" and perform kennel chores while Mom and Dad are away at shows ! Together, the family has been dedicated to making Helderberg Huskies a successful and fun-filled venture.