Thanks for your interest in HELDERBERG HUSKIES. Allow us first to introduce ourselves. We are Jim and Marilyn Butler and our HELDERBERG HUSKY KENNEL came into existence in 1977 with the purchase of our first two Siberians. . .an adventure which was to become a "full time" hobby lasting almost thirty years. For information on our experience in Siberian Huskies, be sure to visit our Siberian Husky Adventure
In the Fall of '95 while surfing the bulletin boards of the Internet Jim learned of a woman, named Eileen Gregory in Peyton, Colorado, who was telling all "surfers" about the existence of a "mini-husky" breed called KLEE KAI. Not knowing Eileen's propensity for words I excitedly sent an Internet Message to her, one Friday evening, requesting answers to numerous questions Marilyn and I had about this "new" rare breed of dog. Because we were bathing our Siberians for a show the next day I did not check my Internet mailbox till very early the next morning (just in case that woman in Colorado had possibly sent me a note). I was soon to learn that Eileen was not a woman of few words. . .I really had not expected a response so quickly but lo and behold here were literally pages and pages of very detailed answers to my numerous questions. As we were ready to leave for the dog shows I hastily printed out the pages and actually read them all to Marilyn in our van while she drove to the show. We were both impressed with Eileen's responses and very excited about this new rare breed of mini-husky. That night we again read through the pages and pages at the motel and my wife and I made several notes of new questions to ask when I got back to my PC.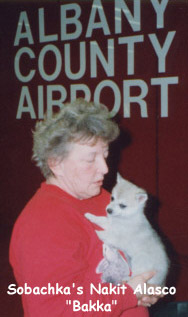 Little did I realize what that first inquiry would eventually lead to. . .and little did I realize that this E*Mail was to become a daily occurrence ! ! Eileen and I must have tied up the Internet with our daily questions and answers. All of this led up to our receiving our first two Klee Kai from Eileen in late November '95. And we have truly enjoyed observing and learning from these little guys and gals. . .AND the daily E-Mail notes continued and continued and before we knew it in February '96 Marilyn and I were again driving to the Albany County Airport to pickup two more Klee Kai. . .making us the proud owners of FOUR Klee Kai.
In January '96 Jim humbly accepted a Director's position on the Board of Klee Kai of Alaska, Inc. and hoped that his many years of experience in showing and breeding Siberians would assist the club as it continues to grow and as the Klee Kai breed earns it's rightful place in the dog show world.
During 1996, with Jim's encouragement, the breed organization voted to change the breed name to ALASKAN KLEE KAI (to better acknowledge the breed's heritage) and to change the name of the breed organization to THE ALASKAN KLEE KAI ASSOCIATION OF AMERICA, INC. (AKKAOA).
Lest the reader gets the wrong impression. . .Marilyn and I still love the full size Siberian Huskies (Currently (2004) we have 3 senior citizens living with us); but we have definitely found room in our hearts and home for these little mini-huskies now called Alaskan Klee Kai. . .and they are a great size for us senior citizens to handle, manage, and show. Helderberg Husky Kennel is dedicated to keeping this a quality breed (with heartfelt thanks to the AKK Creator Linda Spurlin) and with Linda's continued support it is our goal, to not only maintain the quality of the present breed but to improve it as the years go by.
| | |
| --- | --- |
| | In April '96 our doggie adventure continued by attending the American Rare Breed Association (ARBA) show in Washington, DC. What a great time we had! We earned our first ARBA Championship Title at our very first rare breed show weekend with our very first "show quality" Alaskan Klee Kai named Kiputaka Of Mari, making her the second ARBA AKK Champion in breed history. |
In June '96 our first ARBA Champion "Kippi" became a mom and Helderberg Husky Kennel became the proud breeders of their first two Black and White, Brown-eyed AKK puppies. It was decided the toy boy was a keeper. . .and he is now known as UKC Champion Helderberg's Akataka.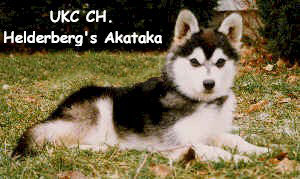 The future held more AKK adventure. . .on January 1st of 1997 another milestone occurred in the history of the Alaskan Klee Kai breed as they earned the honorable distinction of being granted FULL recognition by the UNITED KENNEL CLUB on their first application for recognition. The UKC is the second largest registry in the USA and rarely gives full recognition to a new breed on it's first application. Now the Alaskan Klee Kai could be shown around the country and earn the points and recognition they so richly deserve. You may read more about the show accomplishments of our AKK by clicking on the following link:
All of these things have been accomplished by the cooperation and dedication of all of the owners and breeders who have willingly followed Linda Spurlin's wise lead and adhered to the UKC AKK Breed Standard.
As breeders of the Alaskan Klee Kai, and being dedicated to keeping this a quality breed, we (Helderberg Huskies) allow matings only after careful consideration to the blood lines, as well as the health of both prospective parents, as well as a study of the produce from previous litters. Our puppies will be whelped in our home and will be highly socialized from the day they are born.

Tuki Jazz Angel
Buddy X Bear Litter at 4 wks


Male Pup at 4 wks
Buddy X Shumi Litter
For additional photos click on the following link:
It is our goal, as well as the goal of UKC & UAKKA, to not only maintain the quality of the present Alaskan Klee Kai, but to improve it as years go by. We, as breeders, will encourage people to spay / neuter their Alaskan Klee Kai family pet prior to the age of twelve months, but if an owner of one of our Alaskan Klee Kai, or of any other Alaskan Klee Kai, is interested in showing and/or entering into the breeding program, we will personally help them as much as possible by sharing our knowledge (which has been gained by almost 30 years of experience in successfully breeding and showing our Siberian Huskies & Alaskan Klee Kai), and by encouraging the new breeder to follow the UKC AKK Breed Standard & the UAKKA Constitution & By-Laws & Guidelines for Breeders, which have been instrumental in making this such a great little breed.
Continue your adventure with Helderberg Alaskan Klee Kai through the following: